I've been busy completing a few projects for this month's junkin on main event at Miz Tina's flea market. I'm so excited about it and hope these little beauties find new homes. I posted a description of them, as well as a pic of one I made for a friend on my junque blog if you'd like to go see.

Same idea, but decided to use a mason jar as my "prayer" catcher.
Back to work--I hope all of you have a wonderful weekend!
Thanks for visiting!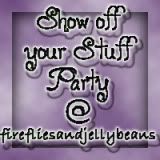 xoxs
Miz Carla
I'm linking this post up with a fun blog party--come check it, and play along!!